Click on photo to see gallery of pictures from the competition.
 Click here to view the  UK OPEN FINAL RESULTS
The editor of Guinness World Records, Craig Glenday and his team visited the UK Open Memory Championships and met founders Tony Buzan and Raymond Keene along with Chief Arbiter Phil Chambers and Head of Ethics Dominic O'Brien, eight times World Memory Champion.  Guinness now recognise the World Memory Sports Council as their official partner to endorse all Memory Records worldwide. This means that all Memory World Records achieved in our official competitions will be also be recognised as Guinness World Records.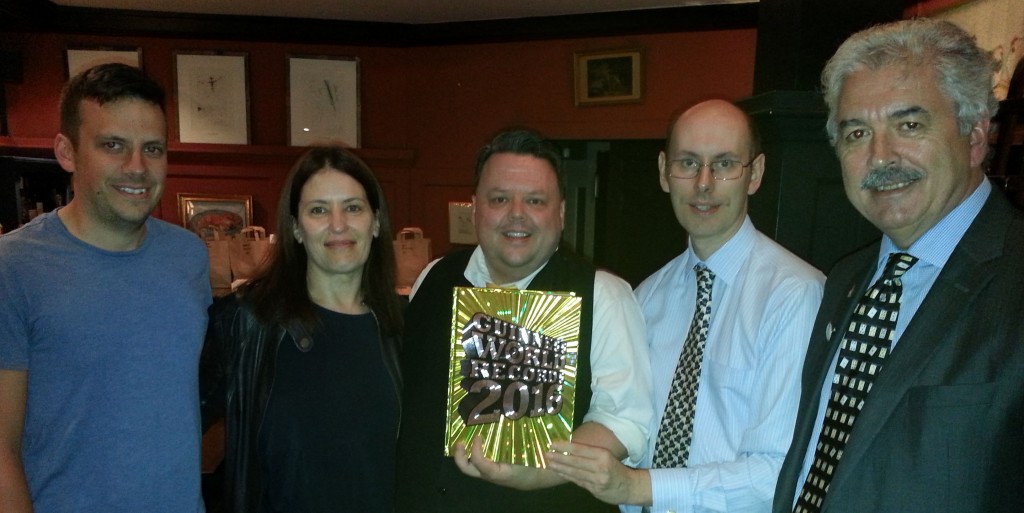 World Memory Championships 2015
We are happy to announce that the 24th World Memory Championship will be again hosted in China in December 2015. The planned venue will be in Sichuan, the most legendary and historical place of China. Please click here for more information.
Jonas von Essen crowned as 2014 World Memory Champion
Jonas von Essen from Sweden defended his World Memory Champion title with 8189 Championships points in the 23rd World Memory Championships, which took place over the three days of Thursday December 11th to Saturday December 13th in the Baohua Harbourview Hotel, Haikou, China. Simon Reinhard from Germany won the Silver Medal with 7118 and Sengesamdan Ulziihkutag won the Bronze Medal with 6710. A record 169 Mental Athletes from 19 countries arrived in Haikou for the 23rd World Memory Championships. These countries include Algeria, Denmark, England, Germany, Hong Kong, India, Indonesia, Japan, Malaysia, Mongolia, Philppines, Russia, Singapore, South Korea, Ukraine, USA, Uzbekistan, Sweden including the World Memory Champion Jonas von Essen, and the host country China. During these three days, athletes competed against each other over 10 disciplines: Names and Faces, Binary Numbers, Hour Numbers, Abstract Images, Speed Numbers, Historic Dates, Hour Cards, Random Words, Spoken Numbers, and Speed Cards. This year, a new kids world record in Hour Cards is created by a 11-year-old boy, Chen Zeqi. He memorized 15 decks of playing cards in one hour. Country Ranking:
To view all the scores by points click here – http://www.world-memory-statistics.com/competition.php?id=wmc2014
---
New National Memory Sports Councils
Please contact our Deputy General Secretary, Angel Lai, if you would like to get in touch with any of the National Memory Sports Council.
---
WMSC Announcement
To the worldwide Community of Memory Sports: The World Memory Sports Council hereby invites applications for confirmation or appointment of all National Memory Sports Councils (NMSC) 1)  To be appointed or reappointed as National Memory Sports Council for any particular nation, applicants must obtain the approval by WMSC and confirmation by the WMC rights holders – namely Tony Buzan and Raymond Keene OBE. 2)        The NMSC has the power of decision as to who should stage the national memory championship, though not necessarily the obligation to organise. The task is to make sure it is organised. 3)        The licence is for a five year period after one year of probation. 4)        The NMSC has the overriding obligation to nurture memory sport, via events, publicity, publications, media, press and all other forms, liaison with and identification of sponsors, co-operation with like-minded educational groups and government channels where applicable, see also 8) below. 5)        The obligation to advise and help other memory groups in the region, especially start up organisations. 6)        To uphold the authority of WMSC and seek to make sure that all memory events are properly affiliated and if possible officially ranked. 7)        To protect and defend the integrity of WMSC personal titles and events and to liaise closely with WMSC at all times. 8)        The task of seeking new sponsors and/or government support for memory events, in particular the World Memory Championship itself. 9)        To demonstrate neutrality as the NMSC and to avoid using the position and honour simply to disadvantage other memory sport groups and to ensure that inappropriate rivalities amongst competing commercial interests do not damage the sport. 10)     Applications must be received by email to Raymond Keene OBE by November 30 2014 latest to rdkobe@aol.com. Please click here for the full document.
---